THE UNION WORKHOUSE
These pages were started in October 1998 when there was no general information on workhouses on the Information Super-highway, as we used to call the Internet. This site begins with a simple description of workhouses; what they were & what life was like in them.

Further on, you will find information on several workhouses with links to important workhouse resources. To go straight to these, please click here. The site also contains a reading list on workhouses & a poem on Newmarket Union.
Most people have heard of the boy who asked for more in CHARLES DICKENS' novel OLIVER TWIST.
Oliver was a poor & miserable child who lived in a workhouse, and like all workhouse children,
Oliver was permanently hungry owing to the totally inadequate meals.


WHAT WAS A WORKHOUSE?
If you were poverty-stricken, or an unwanted orphan, or an impoverished widow, if you were too old to work, or if you were on the tramp, or you were sick or deranged, you could end up in the dreaded union workhouse. The workhouse, sometimes referred to as the Bastille, was a ruthless attempt in 19th century England to solve the problem of poverty.
A plan of a workhouse for 200 inmates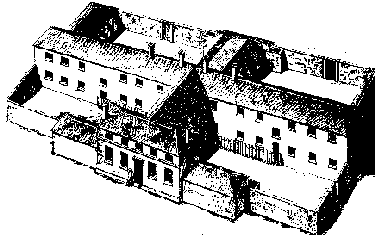 A type of workhouse sometimes seen in rural areas.
Note the yards for men, women & children
A VERY SHORT HISTORY OF THE WORKHOUSE
The first legislation for providing relief to the poor were the Acts of 1572, 1597 & 1601.

The 1601 POOR LAW ACT gave responsibility to local parishes for looking after very poor people, who were able to claim assistance from the parish's householders. Poor people were able to live at home when they were getting parish relief.

With the 1834 POOR LAW AMENDMENT ACT people receiving help from the parish had to live in a workhouse & could no longer live at home. In return for parish relief, they would be made to work hard in the workhouse; which is how the term originated. The Act also allowed parishes to club together into unions responsible for building workhouses & for running them. In the next few years hundreds of workhouses were built at a typical cost to the union of £5,000.

By 1926 there were 226,000 inmates & around 600 workhouses with an average population of about 400 inmates each.

The 1929 LOCAL GOVERNMENT ACT abolished workhouses & their responsibilites were given to county borough & county councils.
WHAT WAS IT LIKE IN THE WORKHOUSE?
Life was meant to be much tougher inside the workhouse than outside, and the buildings themselves were deliberately grim & intimidating - they were designed to look like prisons. They were full of illness & disease brought about by over-crowding & the starvation diet. When you were admitted to the workhouse, you were stripped, searched, washed & had your hair cropped. You were made to wear a prison-style uniform. Women were at all times kept separate from the men, including their husbands. Children were kept separately from adults - even from their own parents. A well known story tells how a labourer gave notice to leave the workhouse with his wife & children - only to be told: "You cannot take your wife out. We buried her three weeks ago". In one instance, a girl aged 15 years died in the workhouse. Her records showed that she was born in the workhouse & had never been outside the place. Aversion to the "house" was extremely strong. At Cuckfield in Sussex they had deep snow December 1836 & all outdoor work ceased. 149 desperate men applied for parish relief. 118 of them were offered the workhouse and 112 refused. Later another 60 men applied & 55 of them refused the "house". Of the 5 who were admitted, 3 left within hours of discovering what life in the workhouse was like.
WORK IN THE WORKHOUSE
The work inmates were made to do was deliberately tedious. Householders objected to supporting idlers, so work was meant to keep people busy & to subsidise the cost of relief provided by the parish. Work was not always available & there was sometimes local hostility to the workhouse's cheap labour. After rising at 5am (in summer), an inmate worked 7-12am and 1-6pm; which is a 10 hour working day. Bed was 8pm. As well as gardening, cooking & sewing, there was corn milling, sack making, oakum picking (unravelling short lengths of rope) & crushing stone. Bones were crushed by hand to make fertiliser. Sometimes the inmates were so hungry that they would pick scraps of flesh off the bones and eat it. The bones were not all animal bones either! Bone crushing was banned after 1845.
FOOD IN THE WORKHOUSE
"And Workhouse bread ne'er cross'd my teeth -
I trust it never will" . . . . . . . . . . .. . . . . . . . . . . . . . . . .Ebenezer Elliott, Corn Law Rhymes 1831*
Until 1842 all meals were taken in silence, and no cutlery was provided - inmates had to use their fingers. And the meals were kept dull, predictable & tasteless. There were 6 official diets which were so meagre that they were described as "a slow process of starvation". A typical diet was:- BREAKFAST 6 oz bread; DINNER 4 oz bacon and 3 oz bread or potatoes; SUPPER 6 oz bread & 2 oz cheese. [Note, oz is short for ounce, 1 ounce = 25 grams]. The official ration in HM Prisons was 292 ounces of food a week. The workhouse diet was between 137 and 182 ounces a week only.
* For more comments on workhouses from Ebenezer Elliott, click here
BEHAVIOUR IN THE WORKHOUSE
Inmates faced an oppressive regime & there was inevitably trouble, with riots at Chesham (Bucks), Huddersfield, Bradford, Todmorden (near Manchester) and elsewhere. The larger workhouses were often out of control, & we hear an interesting report from the COSFORD HOUSE OF INDUSTRY in Suffolk: "... the windows of the dining hall were much broken by the practice of throwing stone at the governor as he was pressing through the hall ...The insubordination of the inmates was so extreme, that if the governor attempted to correct any disorder, the whole of the paupers rose in a body to resist his authority, and more than once violently assaulted him, tearing his clothes & subjecting him to gross personal indignities".
---
THE WORKHOUSE THAT WAS DIFFERENT - STRATFORD ON AVON
Stratford On Avon Workhouse was a bit different ...

From Edwin Pickett, we hear of a workhouse that was highly unusual. "With most articles relating to workhouses, the general picture of these places is gloomy. Whilst this may be largely deserved, there were the exceptions and I think I have found one. This was the Stratford-on-Avon Workhouse which was run by my great grandfather, Daniel Pickett, from 1896 to 1927. I have reproduced below some of the researched information that will show that his workhouse was indeed an exception."
In 1891 details from the census show that Daniel Pickett was living at the "workhouse" in Stoke Next, Guildford where he was employed under the master, a Duncan MacDonald, as a porter. A few weeks later, on 25th June, he was married to Eleanor Jones in the parish church of Holy Trinity, Guildford, Surrey. He had entered the "Poor Law" profession in Guildford around 1885. From there he went to Kingsclere, Hampshire as assistant master, gaining promotion an the death of the master. In 1896, Daniel and Eleanor were selected to succeed Mr and Mrs Collingwood as master and matron at Stratford-on-Avon Union.

In October 1927 after completing 32 years in Stratford and 42 years in Poor Law Daniel retired and was presented with a cheque for £17.2s.0d; while in appreciation of the exceptionally able manner in which Eleanor had discharged her duties as Matron, four years were added to her length of service for the purpose of calculating her superannuation allowance. This severence from official duty came as a great wrench to Daniel who, it may be said, lived for his Poor Law work.
The following is a reproduction of an article printed in the Stratford Herald dated 7th October, 1927 on the occasion of the retirement of Daniel and Eleanor Pickett from their post of joint master and Matron of the Stratford workhouse.
Were some poor old soul to stop you in the street and ask to be directed to No.50, Arden Street, would you grasp the significance of the request? Probably not, for how are you to know that No. 50 contains the largest family in Stratford-on-Avon; that it is, in fact, the workhouse?
"The Workhouse!" It is not a title that you will find falling glibly from Mr Daniel Pickett`s lips. He much prefers "No. 50 Arden Street," or perhaps, by way of a change, "the institution." That he is called the Master thereof is a reproof to bureaucracy's lack of imagination; he himself seems to regard his position as that of a patrician householder. Does "Oliver Twist" make you weep? Then visit Mr Pickett and his charges, and you will soon be happy again. Compared with Mr. and Mrs. Bumble, he and his kindly wife are as alkali to acid. Charles Dickens might have spent the last 32 years - the period of Mr. Pickett`s mastership - at 50 Arden Street without obtaining material for anything but a magnificat.

WORK THAT IS NEVER FINISHED
Mr Pickett has two regrets - one that the Burns proposals for grading paupers, so that the majority might have increased comfort, were shelved by the war; and two that this month he is saying good-bye to the institution. "Would that my physical condition were no worse than my mental state," he said to a Herald representative. "It`s a funny thing you know, that my predecessor, who retired because he said he was too old, can get about to-day better than I can!" "Tell me about your work," he was invited. "I couldn`t detail it all to you," he objected. "It is too varied. Also, it is never finished. I am responsible for the entire administration of the house itself, the infirmary and the casual ward. I have a clerk to assist me, and so am more fortunate than some masters. My successor, for instance, has had to manage alone at Weobley." "But what do you do in the course of a normal week?" pursued the reporter. "Well, I may not do anything, but always I am the overseer. It is no good my telling you that I had to overseen this mornings breakfast put out, because I didn`t, but if I hadn1t been there I should have had the blame. The master looks after enormous stocks of goods and keeps the buildings and everything else in a proper state of repair and cleanliness, but his first concern, of course, is for the well-being of the inmates. He, or the Matron, decides whether s destitute person who is not armed with the written order of the guardian`s clerk or the relieving officer shall be admitted. If the person is brought into the house the master sees that he is cleansed, medically examined and dressed in institution clothes, his own being taken away and kept for him." "Do you mean to say that you would exchange my suit for one not so good?" queried the interviewer. "Yes." was the reply. " It would not be so good, but it would be warmer!" "Doesn`t that practice rob a man of some of his self-respect?" "I suppose it does, but in most cases newcomers` apparel cries out for disinfectant treatment."
One result of the medical inspection is that each inmate is ordered an individual diet, particulars of which are entered in the records. Formerly it was the custom to weight the bread allowed per head per meal. Now everybody at the Stratford institution has as much as he or she can eat. Which system would you think the most economical? Wrong? By not limiting the supply, the officers save thousands of pounds of bread each year, as well as a lot of work.
Moneylenders' and bookmakers' circulars inviting applications for loans or bets from a shilling upwards, find their way to men and women boarders at "No. 50," the senders, though knowing their `quarries` plight not seeming to be actuated by a malevolent irony. In most cases the recipients are old customers.
"I suppose you have to deal with some queer characters?" Mr Pickett was asked. "We get all kinds here," he replied. "The other day a fellow with delerium tremens kept seeing a fish that didn`t exist. He startled people by suddenly shouting `Look out! You`ll slip on it. I`ve dropped it again.`" "You have to award punishment now and again?" "Well I`m empowered to put a man on bread and water, but I never do without consulting the doctor. Really, I don`t think I have punished half-a-dozen people, or taken more than two before the guardians, during my 40 years in poor law service. I don`t believe in too much power being allotted to one man. I`ll show you my punishment book." He did - ten minutes later. That was the length of time the search for it occupied. When he did produce the book it was covered with dust, so rarely is it used! Misdeeds are chronicled therein that would call down any other master`s wrath in full measure, yet against most of these records is the entry, "punishment - none." A woman annexed an old age pension "cheque" from another`s booklet and tried to pass it on as a postal order. On the Matron`s refusal to be victimised she used very strong language. "punishment - none." "To go to bed after tea each day for a week," was the harshest chastisement that the pressman noticed. "That`s what I usually give when I am forced to take action," explained Mr. Pickett. A Daniel come to judgement! Asked if he held a court for complaints, he said that masters of big unions did so, but at Stratford the inmates had access to him all day long, and he was always ready to investigate any grumble. He is proud of the fact that none of them has ever reported him to the board, whereas in some towns complaints about the master are a weekly occurrence.
PRAISE FROM JOHN BURNS
On two occasions Mr. Pickett entertained Mr. John Burns. His visitors book contains this item : "Visited the institution, talked to the inmates, and found administration satisfactory. (signed) John Burns, President Local Government Board. Sept 28th 1911." There are too, numerous favourable comments by members of distant Poor-law authorities. "Nearly every union master in the country has inspected this institution," remarked Mr. Pickett. " I often show round people of all colours and nationalities. A fortnight ago a Norwegian came to photograph the building. He told me he was clerk to a board of guardians in his own land. Orientals find the system strangely new. "Very nice," they say. and go away to think it over." "D.P," recalled the days when workhouse masters had no vote and when a guardian had to ask the master`s permission to enter the house and the medical officer`s to dispense tobacco. He is no believer in the "good old days," and is glad there is more latitude now. "How would Mr. Chamberlain`s scheme have suited you?" inquired the interviewer. "It would have agreed better with my temperament," was the response, "because it would help to banish the idea that a union master is a type of gaoler. You have no idea how important it is that the matron of an establishment like this should possess sympathy and the gift of organisation, and so I must pay a tribute to the wonderful way in which my wife has helped me during our stay here. And before you go I want to tell you this. The chairmen under whom I have served were the best men in the world. You see, I can give them testimonials now - hitherto it has been the other way about. He brought out a letter from Mr. Chas. Couchman, chairman for 16 years, who expressed a sincere wish that Mr. and Mrs Pickett would live long, and in their well earned rest have health and happiness.

Extracts from the Visitors Book,
Stratford on Avon Workhouse


Visited the House - Infirmary, Tramp Wards and Laundry - and found all in excellent order and the inmates well cared for and contented. I fear the time will shortly arrive when we shall need at least half a dozen new bedspreads in the Infirmary.
Signed Francis H. Hodgson - Feb 24th 1911

Visited the house and found everything in first rate order. The inmates look very cheerful and happy. The men particularly wished me to thank those guardians who voted for them to have beer with their Xmas dinner. The house generally reflects great credit on all the officials.
Signed Walter Moors - Dec 27th 1912
Daniel Pickett, Master of Stratford on Avon Workhouse, died on Saturday 26th December 1935 at his residence - "Cassiobury" - 53 Loxley Road. The end came peacefully following a mild seizure. An obituary in The Stratford Herald stated:-
Mr Pickett will be remembered by many residents as the large-hearted Master for 33 years of the Stratford-on-Avon workhouse. The thousands of men who came under his care, representing the flotsam and jetsam of humanity, had a very warm regard for the `Guvnor` who, with his great capacity for friendship, his rare sympathy and kindly nature was always ready to do his best for the travellers who came his way. During the tenure of his office at 50 Arden Street, Mr.Pickett witnessed many improvements in Poor Law administration and the local institute was brought up to date by the erection of the women`s infirmary, the new tramp wards and laundry. In the house were the old `Duke` who passed to his rest at the grand age of 102: Lucy Freeman who was moved to the building from the old parish workhouse in Henley Street; John Adams, a time expired man at the date of the Indian Mutiny, who was in receipt of a weekly pension of 7 shillings from which he paid 5 to the Guardians for his keep, and other interesting personages. A few years after Daniel`s appointment beer was included in the Christmas menu and the privilege was never abused. Considerate and kind to a degree Mr. Pickett gained the affection and esteem of all who came under his charge. The tramps found in him a sympathetic friend, and he did hid utmost to find temporary employment for those who were genuinely seeking work. He was much intrigued by one road philosopher who, after dining sumptiously an Christmas fare, returned to his cell and chalked the following quotation from Shalespeare on the door: "When I was at home I was in a better place, but travellers must be content."
Daniel Pickett left two sons - Tom who was master at the Pontefract Union and Jack who was Asst. Master of the Turnshurst Road Institute, Stoke-on-Trent.
This information was collected from Edwin Pickett
---
THE WORKHOUSE POET
James Withers Reynolds, the Workhouse Poet
James Withers Reynolds was a poor shoemaker from Cambridgeshire. He spent some months in 1846 in Newmarket Workhouse, where he wrote several poems. Poems written by union inmates were unheard of, and Reynolds made a name for himself as THE WORKHOUSE POET. Reynolds wrote the following poem to his sister.

WRITTEN FROM NEWMARKET UNION
Since I cannot, dear sister, with you hold communion,
I'll give you a sketch of our life in the union.
But how to begin I don't know, I declare:
Let me see: well, the first is our grand bill of fare.
We've skilly for breakfast; at night bread and cheese,
And we eat it and then go to bed if you please.
Two days in the week we have puddings for dinner,
And two, we have broth, so like water but thinner;
Two, meat and potatoes, of this none to spare;
One day, bread & cheese - and this is our fare.


And now then my clothes I will try to portray;
They're made of coarse cloth and the colour is grey,
My jacket and waistcoat don't fit me at all;
My shirt is too short, or I am too tall;
My shoes are not pairs, though of course I have two,
They are down at heel and my stockings are blue ...
A sort of Scotch bonnet we wear on our heads,
And I sleep in a room where there are fourteen beds.
Some are sleeping, some are snoring, some talking, some playing,
Some fighting, some swearing, but very few praying.


Here are nine at a time who work on the mill;
We take it in turns so it never stands still:
A half hour each gang, so 'tis not very hard,
And when we are off we can walk in the yard ...


I sometimes look up at the bit of blue sky
High over my head, with a tear in my eye.
Surrounded by walls that are too high to climb,
Confined like a felon without any crime,
Not a field nor a house nor a hedge I can see -
Not a plant, not a flower, nor a bush nor a tree ...
But I'm getting, I find, too pathetic by half,
And my object was only to cause you to laugh;
So my love to yourself, your husband and daughter,
I'll drink to your health with a tin of cold water:
Of course, we've no wine, not porter, nor beer,
So you see that we all are teetotallers here.
(note "skilly" was gruel; "porter" beer made from charred malt)
---


INFORMATION BANK
PRINTED RESOURCES
Listed below are a few books on workhouses:-
English Poor Law History [3 vols 1927-9] by Sidney & Beatrice Webb
Journal of the Workhouse Visiting Society [1859-65]
The Workhouse [1974] by Norman Longmate
Poor Law Commission. Annual Reports. First Report 1835 [and so on]
Poverty & Poor Law Reform in 19c Britain [1998] by David Englander.
The Union Workhouse: A Study Guide for Teachers & Local Historians [1994] by Andy Reid. Phillimore & Co.
Workhouse Children [1997] by Frank Crompton
The Workhouse: A Study of Poor Law Buildings in England [Dec 1999] by Kathryn Morrison of the Royal Commission For Historical Monuments ISBN 1 873592 36 1
The Christchurch and Bournemouth Union Workhouse [2001] by Sue Newman post-free (UK only),
ISBN 0-9524856-1-3. An extensive sudy with 152 pages & over 100 illustrations, this book has won a national prize. For extracts from this award winning book & to contact the author, please click here
Memories of the Workhouse & Old Hospital at Fir Vale [2002] by Lyn Howsam ISBN 1-901587-22-3. Illustrated, 41 pages, A4.
Printed & published by ALD Design & Print, 279 Sharrow Vale Rd, Sheffield, S11 8ZF (Tel 0114 2679402). The Fir Vale Workhouse eventually became Sheffield's Northern General Hospital, the largest hospital in Europe. To contact the author, please click here

Keepers of the House: A Workhouse Saga [2001] is a book on the Clitheroe Union by Frank Lofthouse. Published in Settle by Hudson History ISBN 1-903783-10-0. Foreword by Lord Clitheroe. The book is a detailed account of what is was like to be on the breadline in Clitheroe in the mid 19th Century based on Board of Guardians' minutes and contemporary newspapers. The book details how the grouping of Lancashire & Yorkshire parishes to form the Clitheroe Union was a recipe for trouble: the Yorkshire parishes deeply resented being governed from Clitheroe on the Lancashire side of the Ribble. At the time, paupers were considered to be an urban Lancashire problem and the Yorkshire districts saw no reason why they should be taxed to solve it.
Further information from the author frank@condylofthouse.com
SOME WORKHOUSE INTERNET SITES
Individual workhouses
This is a very brief list of workhouses!
Carrick Workhouse & the Great Famine
Somerset Poor Law Union Records
Wharfedale Union Workhouse, Otley
* The workhouse that was different
GENERAL RESOURCES
Search & download thousands of records at the National Archives
Workhouses ( A resource on UK poorhouses compiled by Peter Higginbotham)
Poorhouse Story (A clearing house for information on 19c American Poorhouses).
---
PONTEFRACT WORKHOUSE
Some interesting things about Pontefract Workhouse
Edwin Pickett relates the following facts about his family's connection with Pontefract Workhouse.
"In 1924 , my father, Frederick William Pickett was born in Paradise Gardens, Pontefract. This was, in fact, the workhouse. However, he was born there only because his mother and father were the master and matron. His father Thomas William Pickett was also born in a workhouse for the same reason - see article on Stratford -on Avon Workhouse.
"28 Paradise Gardens was situated on Back Northgate only a couple of hundred yards from Pontefract Castle and was administered by the Board of Guardians for the Pontefract Union. The men's block was erected in 1867 and was referred to as the "Bastille." Indeed , one master had been so severe that some of the inmates ran away. The place was greatly enlarged with the addition of a laundry block (1897), a gatehouse and offices (1898) and an administration and women's block (1904). The workhouse also had its own power plant and attendant engineer (Fred Keighley) and was a very large place. In the early 1920s a large infirmary building was also erected. Tennant & Smith designed the Infirmary block. In the observation block were padded cells for containing inmates who required transferring to Wakefield Asylum. My Aunt Eleanor (b.1915) remembers the block being built and the fact that it made a good playground. She also remembers the fact that her father possessed a revolver as a deterrent in case there was violence from the residents. However, she says that it was never necessary to use it and that she and her brothers would wander around the site mixing with the inmates in complete safety and knew many of them by name. Vagrants or tramps would arrive on foot late at night and queue outside the gates. After admission they would have to get bathed and would be allowed to stay for 3 to 4 days before being escorted to the union boundary. They would then move on to say Selby, Hemsworth or Barnsley. At the workhouse, various forms of hard labour were organised to help pay for the upkeep of the inmates and also act as deterrent in the unlikely event that anyone saw life in the workhouse as an easy option."
"The type of work expected at Pontefract included sawing logs, chopping firewood or breaking stones for use on the roads. Although not intended as a soft option and a system that has been much denigrated in later years, evidence shows that there was a softer side to such institutions. A copy of an expense sheet from minutes issued during 1926 shows several entries related to "Toys", "Christmas Extras" and "Gramophone repairs". Similarly, an item found amongst a box of old papers shows a copy of an order dated 27/3/24 for the supply of 2,500 Woodbine Cigarettes, 4,000 Sherbert Suckers and 2,000 Gobstoppers. It is also clear that being on the Board of Guardians was not always an onerous task as the copy of a Farewell Dinner menu shows. It must have been a "grand do" as the order scribbled on the front shows that 100 copies were required. It is not clear who was being bidden farewell, but my grandfather was a responder to the toast to the officials and staff."
"It was in the early thirties that things began to change with regard to Poor Law in general and this affected the usage of the Pontefract building. Between 1930 and 1948 the facility became used increasingly for the aged and infirm although it also recorded that in 1938 it was used for gas-mask training. As Headlands Hospital, it became principally geriatric in nature until it closed down. In the 1990s the infirmary block was transformed into a block of luxury flats The main facade was preserved and the flats go by the name of Paradise Fields."
This information was collected from Edwin Pickett
WHARFEDALE UNION WORKHOUSE, OTLEY
A little history of Wharfedale Workhouse
Wharfedale General Hospital was originally built as the Wharfedale Union Workhouse. In late 2000, the government recognised the importance of the workhouse by giving it Grade 2 listed building status. This followed a submission from the Otley Conservation Task Force with support from Dr Derek Linstrum (the celebrated architectural historian ) & from Otley Museum (especially Paul Wood, a former keeper of the museum). The information presented here on the Wharfedale Union Workhouse is based very closely on the research carried out by the aforementioned authorities. Their help is greatly appreciated. The new workhouse was largely built in 1871/3 to replace the old Carlton Union Workhouse which in turn replaced one which was next to Dennison Hill on Cross Green. Carlton Workhouse was described in 1869 as being "as bad as can be; for inmates of the insane and imbecile class, it would be difficult to imagine anything worse." ( Carlton is a small village near Otley). By contrast , the new workhouse with its picturesquely varied roofscape of gables & chimney stacks was erected in an attractive, almost rural setting, and with its lawns, gardens , bushes & trees gave a very different impression indeed. Even as late as 1921, it was described by a Board of Guardians visitor as "almost a palace." Wharfedale Union Workhouse was constucted in 1871/3 at a cost of 15,000 pounds on land to the north of Otley acquired from the Fawkes Estate. The architects were Charles Sebastian Nelson & Alline James Nelson who had offices in Leeds & Derby. Their design was typical of 19th century buildings of the industrial West Riding & used local, coursed square stone with ashlar dressing while the roofs were of Welsh slate. There were 4 main buildings - the Admissions Wing, the Main Workhouse, the Old Hospital & the New Infirmary
The Admission Wing 1871/3
The single storey Gatehouse & Admission Wing on Newall Carr Rd "told incoming paupers to prepare themselves for division into deserving & undeserving poor in the adjoining Receiving Wards. Vagrants, tramps & casuals were strictly separated from the resident pauper inmates housed in the gothic splendour of the Main Workhouse. The Gatehouse Wards (ie the Receiving Wards & the Casual Wards) contained the wooden box sleeping cells & task sheds where on-the-tramp casuals would chop wood, pick oakum & carry out other jobs in return for bread & lodging."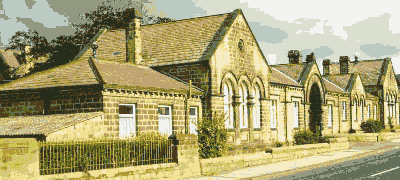 These casuals would congregate outside the Gatehouse at 6pm awaiting admission by the Porter through the intimidating wrought iron gates. Passing through the Gatehouse, the casuals would have a view of the impressive Workhouse.
- Photo of Gatehouse
by courtesy of Ian Andrew -
The Main Workhouse 1871/3
Sometimes known as the New Hall Workhouse, the Main Workhouse was designed for 100 inmates & had an inverted T-shape; in appearance & setting, it resembled a country mansion rather than an institution. The entrance had a pointed arched doorway beneath a central square tower which looked out over the vegetable gardens. "The east & west wings were for the further segregation of males, females & children." Between the two wings were the Master's Quarters. To the rear were the three grim & enclosed yards: one for men, one for women & the third for children. Further buildings at the rear were dining hall , kitchen, bake house, grocery stores, laundry, disinfector, joiner.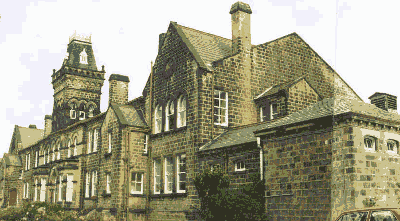 George Meller & his wife, Mary, were Master & Matron of the Main Workhouse until they were superseded by Mr & Mrs Jones. Later, Charles & Louisa Hunt held the posts into the twentieth century.
In 1914 , male & female latrine wings were added to the Main Workhouse; these wings being designed by an Otley architect called John Henry Wall who had earlier been partner in the Bradford firm of architects, Fairbank & Wall.
- Photo of the Main Workhouse by courtesy of Ian Andrew -
The Old Hospital 1871/3
This was also called the Infirmary Block and the Northern Block. The Old Hospital was situated to the rear of the Main Workhouse building & was the plainest building on the site . It contained the wards for Aged Female Infirm & Aged Male Infirm as well as the Isolation Ward & the Engineer's Quarters.
The New Infirmary 1905/7
This, too, was a fairly plain building but its slate roof & tooled stone masonry matched the earlier buildings & contributed to the unity of the whole site. It was designed by the architect, W. H. Herbert Marten. The New Infirmary had wards for females & females with a Maternity Ward upstairs. The name New Infirmary indicated that it replaced an earlier hospital which was a small, single storey construction ( built in 1871/2) situated in the north west corner of the site; the hospital being demolished when the New Infirmary was ready.
Wharfedale Union Workhouse was an impressive complex bounded by low walls & railings. Inside the grounds, there were 2 lawns & 2 large vegetable gardens; the latter providing both food & work for inmates. Other food & supplies came through "six- monthly contracts issued by the Union's offices on Boroughgate; the contract for September 1922 included fifty 280lb sacks of flour, eight hundredweights of carbolic soap, men's corduroy trousers, repairs of boots & shoes, hair cutting & shaving" and, disturbingly, supply of horse, bearers, hearse & coffins! The 1935 Base Plan (in Otley Museum) showed several further facilities for the upkeep of the workhouse & its inmates - piggeries, poultry shed, greenhouse , potting shed, coal store, wood yard & wood shed, weighbridge & even a mortuary . One facility which looked most out of place on the 1935 Base Plan was the tennis court - this was unlikely to be for the benefit of inmates!
Further information on the Wharfedale Union Workhouse is available from
Ian Andrew
, honorary secretary to Otley Conservation Task Force (all volunteers), and from Otley Museum (tel 01943 466335) which has a photographic archive relating to the workhouse site including photos of the interior, inmates & staff.
---
CHRISTCHURCH AND BOURNEMOUTH UNION WORKHOUSE
A look at Christchurch & Bournemouth
Sue Newman has written an award winning book which is already in its second revised & enlarged edition incorporating first hand experiences of life in the workhouse from people who lived in the workhouse when they were children.

There are 2 extracts below, but first, Janet Hole of Family Tree Magazine, reviews this important book (permission to use the review is gratefully acknowledged).
"This study of the Workhouse goes into extensive detail about the actual buildings and their evolution, and into the 'nitty gritty' of the everyday running of the institution, as well as containing a great deal of information about the Poor Law and Workhouses in general. It thus has universal appeal. .... An example of Christchurch poverty in 1894 prefaces this account of Christchurch Workhouse. .... This is an outstanding social documentary of the provisions made by the well-meaning for the care and education of the destitute poor in the area. ... The book is a thought provoking and detailed account of the paupers' lot before and after the 1834 Act, and makes for compelling reading. An extensive name index adds additional interest for the family historian."
Two samples extracted from Sue Newman's book (with her permission):-
Seventeenth century records held in the Priory Church archives list apprenticeships for the poor children of the parish and their names and those of the employers. In fact, the Poor Law records for Christchurch document these names from 1698 - many decades before there was a workhouse in the town. The documents reveal that the children could be bound to a variety of trades: the Newfoundland fishing trade accounted for some; a range of skills were taught to others. The most unusual on record must surely be mud-wall making. Others in this period include tailoring, cordwaining (shoemaking), husbandry, housewifery and servants, and mariners. Husbandry and housewifery would have been unlikely to be anything more than unpaid drudgery. Alarmingly, after the names of the apprentices in the list 1698-1744 appears the word 'dead' not infrequently.

Some of the girls were put into service via adverts in The Salisbury Journal to 'creditable and respectable housekeepers' with a premium of £10 to the employer for each child placed. This was a common practice in those days, and by offloading a pauper at a premium to defray parish expenses, future savings were made, as well as a position found for the workhouse child. The system was widely abused in the parishes generally: girls in service were frequently appallingly overworked.
Our Christchurch overseers thought of another ingenious ruse to reduce the relief expenditure and the level of the Poor Rates. This threat to dispossess those who repeatedly requested relief was issued in 1824:-


"Whereas several persons in this parish receiving constant relief are possessed of cottages, lands and gardens, it is agreed to propose to such persons that they convey their respective cottages and lands to this parish, to take effect after the death of such persons, and in the case of the refusal of such paupers to make such conveyances, on account of preserving the same for their children, the relief to these paupers to cease, as it will be expected that they shall be from that time supported by their respective children for whom such cottages and lands are preserved." This anticipates uncannily by more than a century the hated 'Means Test' of the 1930s.

With schemes of this sort, it is hardly surprising to read the observations of the Revd Bingley (MS History of Christchurch, 1813) that "it is entirely from the excellent regulations adopted and persevered in ... that the Poors' rates in the parish of Christchurch are so much lower than those of almost all the other parishes of the county."

Another practice of the overseers was to hire out workhouse labour on the repair of the roads in the parish or farm work. The daily charge was a shilling for an able-bodied man, 10d for someone not able-bodied, and a mere 8d for a man over 60 (Select Vestry minutes 1824). According to the 1832 Poor Law Commissioners' Report, the workmen were permitted to keep one sixth of the wages so earned.
The second extract from Sue Newman's lively book comes from Chapter Nine and deals with a scandal :-
In September 1890, Nurse Sarah Matkin wrote a courageous letter of complaint to one of the Guardians, Major Maunsell, and thereby set in train events that shook the Board out of its cosy complacency. "Two lawyers and a couple of parsons, a number of builders and estate agents, a few farmers and a sprinkling of tradesmen, an officer and a couple of country squires, with one or two of the nondescript class called gentlemen, and you have our Board." This withering assessment was made by a Guardian, the Revd Cleale, under a pseudonym, in The Christian Magazine. Although it relates to 1896, the composition of the Board had hardly altered since the Great Scandal six years earlier.

The nurse's complaint about the treatment of a patient brought to her in the infirmary "more in the manner of a dog than a human being", was of sufficient weight to postpone the patient's funeral and order a coroner's inquest. The coroner ordered an investigation, news of which was printed in The Christchurch Times and The Bournemouth Directory and afterwards in The Salisbury and Winchester Journal. The scandal even reached the ears of the London reporters, who in The London Star referred to the"simply shameful" situation of a "poor old man dying in a workhouse without attention or food." Newspapers loved workhouse scandals, of which there was a plentiful supply, and the more lurid the better for sales.
To contact the author, Sue Newman, please click here
---
SHEFFIELD'S FIR VALE WORKHOUSE & OLD HOSPITAL
Fir Vale Workhouse

Sheffield's Fir Vale Workhouse was eventually to become the Northern General Hospital, the largest hospital in Europe. Founded in 1878, there were some six sets of buildings: the main building accomodated 1662 paupers, the vagrants wards could take 60 men & 20 women; there was a school for 200 youngsters, an asylum for 200 inmates, a fever hospital & another block for 366 patients.
The extracts below are taken with the author's permission from "Memories of the Workhouse & Old Hospital at Fir Vale" by Lyn Howsam.
Extract from the Punishment Book:
74 year old Henry Lee was punished for attempting to abscond over the wall, having been stopped six times previously. William James Day, 72 years old, "returned drunk and committed a nuisance in front of Nurse Dobson." A few were arrested by the police. John Hamilton, who returned late and worse for drink, put the blame on his nephew for putting whisky in his tea. Tom Lilley was drunk and insulted not only his wife, but also the storekeeper, a nurse and some visitors on the drive. He was also said to have caused a disturbance in the dining hall.
Childhood memories of the cottage homes on Herries Road
After breakfast was over we would then finish getting ready for school and lining up in twos we would make our way down to Owler Lane School with an older girl in charge of us. There was quite a strong stigma attached in coming from the children's home, which I'm sure many of us felt. For me it was made worse when the teacher in a strident voice on my first day there bellowed out, "Stand up the cottage home children for free milk." I had my milk the first day but didn't bother after that because I felt so awful about it that I wouldn't put my hand up for milk again. I much preferred to go without. One girl I made friends with there had been telling me all about the Enid Blyton books and even offered to lend me one. We weren't allowed to visit people's homes so she said she would run ahead after school to her home in nearby Coningsby Road and come to me as we made our way back up to the cottage homes in our two by two file. Quickly she handed me the book and I was so thrilled at the thought of having something interesting to read. We hadn't gone very far before this mad woman (my friend's mother) having found out about the book came shouting after us wanting the book back. I felt awful and very humiliated. We were told later never to accept anything from anyone again.
Living in the Workhouse at Fir Vale
In my job as a district nurse, I met people of all ages as I went into their homes. At times I would frequently be the only person that they saw or spoke to that day. One of my regular visits was to see two sisters who lived together. Martha was the elder and Elisa the youngest. They didn't know their ages, but Martha said they had been in the workhouse since 1890 - but they couldn't remember how old they had been when their mother took them in there, as she had died shortly after this. Both Martha and Elisa had worked in the house cleaning and also in the laundry. Martha had lived in Fir Vale for most of her life, but Elisa was sent into service when she was 12 years old and eventually married a man she met whilst in service. She never had any children and would never talk about this time in her life. She was very quiet and reserved, speaking only when spoken to. Neither woman could read or write. As I got to know them better, they would tell me a little about their lives in the workhouse and how hard the work had been, but would always say: "We were fed, had a clean bed and a roof over our heads, so we were lucky really." After Elisa had become a widow, the two sisters lived happily together in a ground floor flat with only the very basic of furniture. A table and two chairs, a double bed, lino covered floors and only a small mat in front of the fire. The only electricity they used were the electric lights with just one small bulb in each room. They said they had always been used to candles when they were younger so this didn't bother them.



"Memories of the Workhouse & Old Hospital at Fir Vale" by Lyn Howsam
was published 2002, ISBN 1-901587-22-3. Illustrated, 41 pages, A4.
Printed by ALD Design & Print, 279 Sharrow Vale Rd, Sheffield, S11 8ZF (Tel 0114 2679402).
To contact the author, please click here
Before the NHS
A brief history
The Punishment Book
Board of Guardians
House of Help
Thomas Boyle
The Higgins family
Belgian refugees
Billy Hague 1892-1964
Childbirth in the thirties
Emmie Greenslade
The War
The Cottage homes
Patient & employee
Fir Vale Infirmary
The Sewing Room
Fir Vale yesterday
Secretarial experiences
Medical Secretary
Goddard Hall
On the district
People remember
A second book on Sheffield's Firvale Workhouse has been compiled by Lyn Howsam namely "Life in the Workhouse & Old Hospital at Fir Vale"
Publisher ALD Design 2006, ISBN 190158760-6.
To contact the author, please click here.